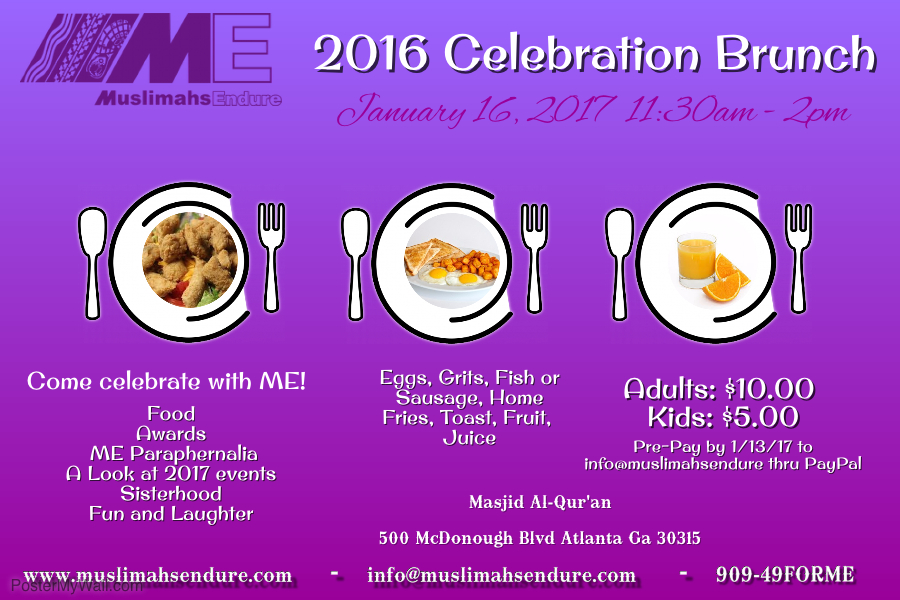 We ran. We walked. We laughed. We cried. We conquered!!
Now it is time to come together once again. It is very common to begin planning ahead and setting goals for the next 12 months. This is a great ritual that keeps many of us focused on what we want to accomplish in the coming year. In addition to this, it's also important to take time to look back at past successes to celebrate your accomplishments. Muslimahs Endure will be doing both. Each year we give special awards in 5 categories as well as recognize all of our members who have participated in our events! We also look forward to the year to come and discuss all the goodies we we have planned. Our celebration brunch is  fundraiser, so please come out to support or consider giving a donation.
ME Annual Awards
MILES BEAST
The member who completes the most mile over the year
RACE JUNKIE
The member who participates in the most road races over the year

STRIDE MAKER
The member who makes the biggest improvement over the year

EVER ENDURING
The member who has the best attendance at ME events

MEMBER OF THE YEAR
The member who embodies ME mission and vision

Not able to participate in our activities but believe in our work. Consider sponsoring your fellow sister.
All funds dontated will go towards training, travel, registerations, gear, anything to help our member reach their fitness goals.