Skidaway Half and Full Marathon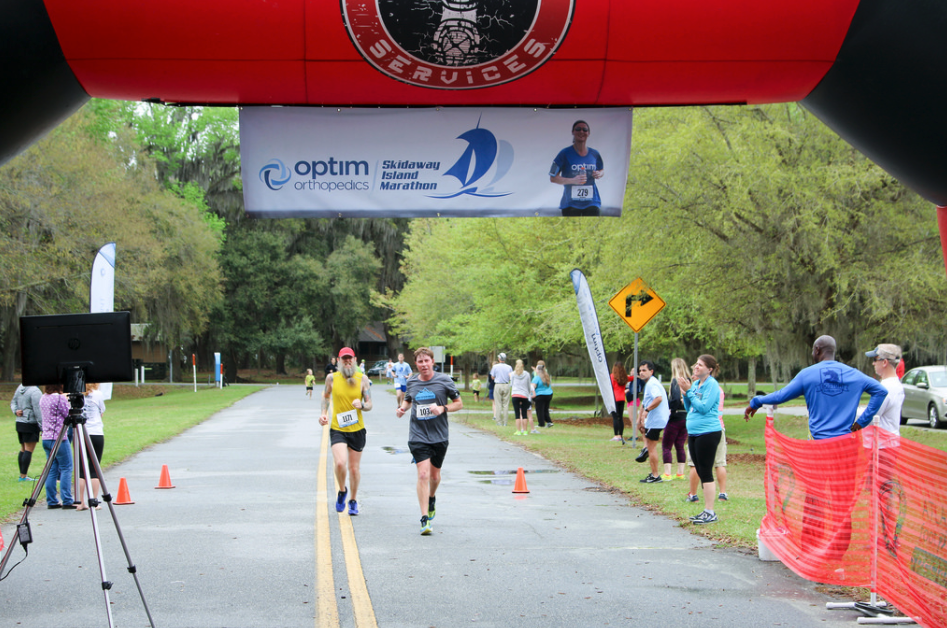 Accept the challenge, Inshallah you can do it!
Muslimahs Endure and Rijaal Runners have completed 5Ks, 10Ks, we even trained for a half marathon but because of weather, we could not participate. Each year we challenge ourselves and set new goals. Inshallah, March 24, 2018, we have set our goals high and we are participating in a Full Marathon. Not quite ready for the Full Marathon, no worries there is also a half marathon option.  Not interested in running or walking. Join our support team.
The price to travel with Muslimahs Endure and Rijaal Runners depends on you. Below you will find our services, choose to do it all or none of it. When registering let us know what your interest and you will receive an invoice.
I am not interested in training or traveling with the ME. I just want to register for the race with the team.Use the links below to register.
In collaboration with Skidaway Marathon and Fearless Running Academy we have been given a reduce registration rate for bringing a big group. Registration includes finisher medal and towel. Race shirts are an additional $10 and pre-race pasta dinner on friday is an additional  $5 (runners) and $10 (non-runners).
The race director has offered:
Tent setup at finish line

Special Group Photo

Special Group Video

Promotion of our group prior to race day
Travel to Skidaway Island for race day is the responsibility of each runner. Muslimahs Endure is organizing a carpool. Each participants is expected to put in for gas and small appreciation to the driver.
We are looking for drivers with vehicles. Please let us know if you are available.
Lodging for the weekend is the responsibility of runner. However, Muslimahs Endure has organized the local masjid, Masjid Jihad, to host us for the weekend. Approx. 25 min from start.
Above the prayer area are rooms that will be reserved for us. We will use air mattress and sleeping bags. There are only two beds available, that will be reserved for our sole sister on the trip.
If you are looking for alternative accommodations, please check out local hotels:
The Double Tree

Fairfield Inn & Suites

Westin Savannah
Meals are the responsibility of each runner. Muslimahs Endure has contracted a local halal caterer to provide our meals for Friday Night pre-race and for Saturday afternoon post-race. Menu: TBD
We will also provide breakfast race morning and Sunday morning before departure. Breakfast options will include oatmeal, toast, fresh fruit, juice, peanut butter, etc. A full list will provide later.
African American Tour
$20 ($18 child)
Day Clean Soul will provide a historical tour of the Geechee Gullah influence on not only the Savannah Area but national. It is truly a tour for everyone.
The training program calls for additional smaller races to be completed to further prepare you for your goal race.
Half will run a 5k and 10k:
Go for the Red 5k – 2/11/18

Intown ten – 3/4/2018

$40 first 100

$45 until 12/15/17

$50
Full will run a half marathon:
Training Program
$65 or $80
Muslimahs Endure plans to offer 18-week for the full and 12-week for the half using the Hal Higdon Training Program. Programs will be appropriate for your fitness level and your running history. Training will include:
Weekly emails with training schedule.

3 weekly group runs

Nutritional Suggestions

Cross Training Suggestions
Please see the sample training schedule to get an idea of the weekly miles you will need complete. If you feel like you are need of building a running base/foundation prior to starting the program. We will be meeting weekly to do short group runs prior to the official training start date.
Training begins:
Half:

16 week: Dec. 4, 2017 or

12 week: Jan. 1 2018

Full: 18-week: Nov. 20, 2017
Muslimahs Endure plans to offer child care for race time only.
Travel with Muslimahs Endure
Fee:
Half Marathon: $323* -$343*
Full Marathon: $346* – $366*
Payment Schedule:
Deposit Due November 15th
Half Marathon:  $68 Deposit
Full Marathon: $76
Remaining Balance:
Invoiced 4  even installments due on the 15th of each month starting in December
* All fees paid are non-refundable
Tuesday & Thursday
We meet twice a week for group runs.  Regular runs will take place at 6:30 pm at Cheney Stadium. Location and time may vary. Weekly emails will be sent to include any changes to weekly meetup. Be sure to join our Strava club to receive up-to-date information.
Sunday Long Run
It is best to train on a terrain that is similar to the one of the race. Skidaway course will be relatively flat, so we will do our long runs on the Silver Comet Trail. The Silver Comet Trail is located 13 miles northwest of Atlanta, Georgia. It's free of charge and travels west through Cobb, Paulding, and Polk counties. This quiet, non-motorized, paved trail is for walkers, hikers, bicyclists, rollerbladers, horses, dog walkers, and is wheelchair accessible.
LOCATION:
Mavell Road Trailhead, Mavell Rd, Smyrna, GA 30082
TIME:  
Fajr, we will pray fajr together and run as the sun begins to rise
DURATION:
Duration of each run varies. Time is dependent on assigned miles and runner's pace.
Half Marathon: 45 min – 3 hours
Marathon: 1.5 – 4.5 hours
Remaining Days
There are 3  days we meet up as a group. But your training plan will include additional run and cross training.
Half Marathon - Beginners
Choose this plan if you are new to running or like a gentle approach to training. It gradually builds you mentally and physically to be able to finish. Max long run is 10 miles.
Half Marathon - Intermediate
Choose this plan if you have a run history, but need help building your endurance. Max long run is 12 miles.
Full Marathon
Choose this plan if you have been running for over a year and you have already completed various 5k, 10k and half marathon races. Max long run is 20 mile.
Not able to participate in our activities but believe in our work. Consider sponsoring your fellow sister.
All funds dontated will go towards training, travel, registerations, gear, anything to help our member reach their fitness goals.